Name:
ABDUL KHALIQUE JUNEJO
Mailing Address: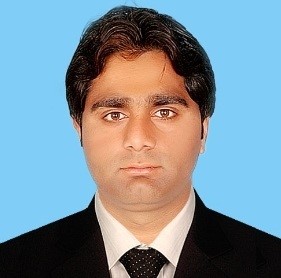 Bungalow no B-96Phase-II Al-Mustafa Town cell # +923313439374

Naseem Nagar HyderabadSindh Pakistan Phone # +92244-9370381-

Ext: 2632
E-mail:
ak.junejo@quest.edu.pk
Bio-Data:
Father's Name : MuhammadYakoob
CNIC No : 43402-0356503-3
Passport : AE8785031
Religion : Islam
Nationality : Pakistani
Education:
M.E(Power Engineering) Quest UniversityNawabshah Sindh Pakistan, (2015)
MajorSubjects : (Power System Automation & PowerSystem Quality)
(InterestedIn Smart Grid)
B.E(Electrical Engineering) QuestUniversity Nawabshah Sindh Pakistan, (2011)
MajorSubjects : (Power System, Machines,Power Electronics & Circuits)
H.S.C(Pre-Engineering) Szabist LarkanaCampus, B.I.S.E Larkana (2006)
MajorSubjects : (Physics & Mathematics)
S.S.C(Science) : Govt: (MPL) Higher Secondary School, B.I.S.E Larkana (2004)
Master Thesis:
Master'sthesis on analysis of voltage sag propagation in distribution network and voltagesag characterized through distribution transformer on several types ofconnections with symmetrical and unsymmetrical faults. Further it is also analyze the behavior of zero sequence currents in power system during faults and theircauses. Thesis has been done by using MatLab/Simulink (Software).
Experience:
2nd Jan 2016 to date : Assistant Professor (QUESTUniversity)
21st Dec 2013 to 1 Jan 2015 : Lecturer (QUEST University)
26th March 2012 to 20th Dec 2013 : Lab-Engineer(QUEST University)
14th Feb. 2011 to 25th March 2012 : Visiting Lecturer (S.TEVTA).
Trainings:
01st July to 31st July 2010 : TPS Jamshoro(4 Weeks) GENCO-1

15th June to 15th July 2009 : TPS Jamshoro (4 Weeks) GENCO-1

05th September 15th 2010 : 30 Hours course of PLC QUEST University

09th March to 19th 2010 : 15Hours course of MatLab QUEST University
ComputerSkills:
14th September 2009 : One year diploma in information technology(SBTE)

(MS-Office & Programming) MatLab ,DigSilent, PSCAD and C++.
Languages:
1.English (Fluent in speaking and very good in writing)

2. Urdu (National)

3. Sindhi (Mother tongue)
ResearchInterest :
Power system Automation Power Quality& Power Electronics

And Smart Grid.
Bachelor Thesis Supervised : Many thesis supervised by me
References:
1) Prof. Dr.Muhammad Usman Keerio, Professor, DeanFaculty of EL , ES, QuestN/shah

Email: usmankeerio@quest.edu.pk Phone: 0244-9370381-5 Ext. 2112

2) Dr. Ghullam Mustafa Bhutto, Associate Professor, ElectricalEngineering Department Quest N/shah

Email: gmu@quest.edu.pk Phone: 0244-9370381-5 Ext. 2110

3) Dr. Javeed Ahmed Laghari, Assistant Professor, ElectricalEngineering Department Quest N/shah

Email: javeed@quest.edu.pkPhone: 0244-9370381-5 Ext. 2110